Original post by Jordan Ehmann at Indies Today
★★★★★ / BY JORDAN EHMANN / OCTOBER 31, 2022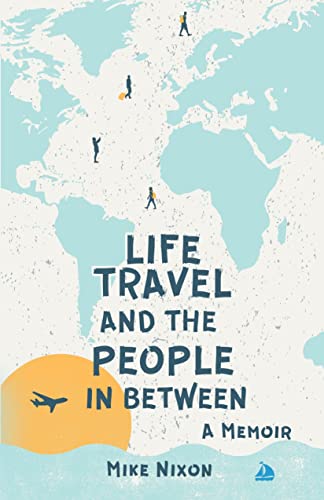 Soulful, heartfelt, and one of the most memorable books you'll read this year.
From humble beginnings in a poor part of Missouri to sharing a meal with Mongolian nomads, Life Travel And The People In Between: A Memoir by Mike Nixon is a globetrotting adventure that is sure to stoke the flames of wanderlust in eager readers everywhere. Nixon's hunger for travel is sparked by a job as a Front Desk Representative at the Comfort Inn where he is able to witness the vastness of the world through the eyes of other travelers. No matter if it's a challenging customer service job or a gratifying career in the Navy, Mike Nixon approaches every task in life with a passion and curiosity that is as refreshing as it is wondrous and entertaining. But every chapter in his life is not a good one. While there is no way to candy-coat how it feels to be poor, bereft, ostracized, or the new kid in town, Nixon captures these feelings with gentleness and honesty, keeping the momentum in his life moving on a positive trajectory. With aspirations to be an actor, a chef, a global volunteer and an all-around good guy, Mike Nixon works hard to accomplish everything on his ever-growing bucket list. Although his efforts aren't always rewarded exactly when and how he imagines, the adventures he enjoys are more than enough to fill a lively and enlightening memoir!
Everybody has a story to tell, but what sets Mike Nixon apart is his eloquent and approachable manner, combined with an inquisitive disposition. Through his interactions with the variety of people he befriends during his travels, readers immediately sense how likable and sincere Nixon is. Whether it's lending his car to a total stranger or embarrassing himself while trying to make conversation, audiences are put at ease and allowed to really soak up all the culture, wisdom and vibrancy that Nixon absorbs and radiates. Where other people might see drudgery or tedium, Nixon sees opportunity and possibility, adding to the upbeat vibe of this global memoir. There is no doubt that experiences shape and mold us, but into what, exactly, is up to us. As the author's worldviews are challenged and his viewpoints are widened, readers can enjoy this same enlightenment, courtesy of Nixon's open-minded experiences. Regardless of the obstacles we encounter, Nixon sets a terrific example for young people today in demonstrating how our circumstances might put us on a dangerous road, but it is our choices that determine which direction we ultimately travel. In a story overflowing with interesting places and cultures, it's impossible to choose a favorite. Even the endnotes prove to be informative, interesting, and witty, so don't skip over them or you might miss out on a good laugh! Captivating, charming, and a truly compulsive read, Life Travel And The People In Between is soulful, heartfelt, and one of the most memorable books you'll read this year.